Find out about giveaways, be among the first to read new books ...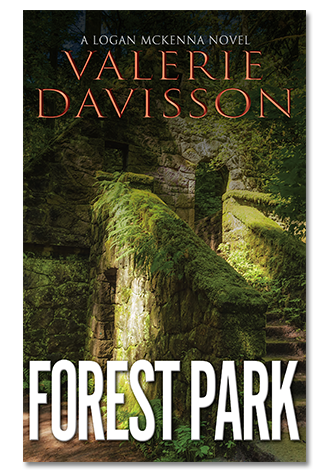 FOREST PARK: Logan Book 2
Available at: Amazon | Amazon UK
Critical choices made in the drama and chaos of the last days of the Vietnam War reach across the Pacific to modern-day Portland, Oregon, threatening to destroy the lives of those who managed to cheat death in 1975.
When a violent explosion takes a woman's life just steps away from Logan McKenna's downtown hotel, the police suspect all the wrong people, including a homeless vet and two of Logan's new friends; but are any of them completely innocent?
While unraveling the tangle of half-truths and secrets to help her friends, Logan's personal life suffers an explosion of its own. Each character must decide not only whom to trust, but at what cost.
Reviews for FOREST PARK

"Excellent Thriller and promising series! I especially liked Logan and the timeline with alternating chapters. The setting was so good, I could almost smell the food and see the sights. Davisson's prose was poetic and very nicely done. And the voice actor was perfect for the story in the audio version. Great Listen!"
–Teresa
"Davisson's writing style flows effortlessly…Her descriptions immerse you in the scene. She leaves you not with just a general and blurry idea of the setting, but delivers it to you in 3-D! And her lead character, Logan McKenna, is someone I think I'd like to know."
–Mwcats
"I highly recommend Forest Park! The second in the series, the book follows parallel stories surrounding a mysterious explosion of a Vietnamese food truck and murder. One story deals with a Vietnamese family as thugs attempt to extort money from them. Another deals with a homeless Vietnam vet trying to make his way in the world while struggling with PTSD. Finally, Logan McKenna gets involved in the murder case after witnessing the explosion from her downtown Portland, OR hotel room. Somehow Davisson meshes all of these storylines in a seamless way.
I don't normally read mysteries, but loved this book and her previous one, Shattered, because the author spends a lot of time with character development rather than the grisly details of a crime scene gone wrong. The book touches on the issues of immigrant families trying to make a good life in their adopted country, the problems haunting a Vietnam vets forty-plus years later, and the challenges of public school teachers trying to teach meaningful subject matter rather than just administer tests. A bonus is that she describes food and wine in such a delicious way!!"

–tsk
"Davisson delivers again! What a great read! It held my attention, couldn't put it down until I finished reading it. Living in Oregon, I could certainly relate to the setting. Can't wait to read her next book!"
–Pattee
"Well worth the read! Curl up with cocoa, tea, or coffee and take the ride. This book and book one move slowly…but I found it nice to just explore with the main character/author through fiction."
–darswords
"You need to read this book! This was my first time reading this author. I loved the book so much I'm going to see what else she has written. Super excited!"
–Kimberly O.
"Well meshed second book that continues the main story, while serving up a fascinating story about loss, starting new ventures, and forgiveness. I highly recommend it!"
–J Livingston