Find out about giveaways, be among the first to read new books ...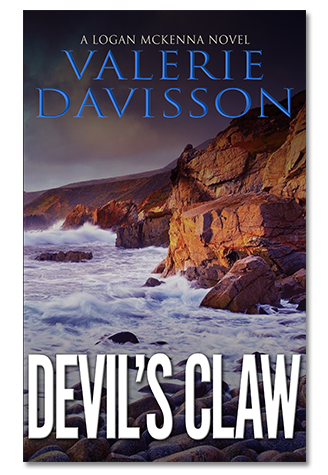 DEVIL'S CLAW: Logan Book 3
Available at: Amazon
Two half-siblings lay claim to the same stretch of gorgeous, coastal property. Other players have their own ideas for Lot 429. Some of them lead to murder.
It's summer, and with a new job, a new life, and plenty of time for her music, life couldn't be better for Logan McKenna. She and her daughter, Amy, home from Africa, even rescue an orphaned sea otter pup and help nurse it back to health at Jasper's new Sea Otter Center.
But powerful storm clouds soon begin to swirl around the center, threatening the lives of all who enter it. More than one person lays claim to the property and all want it badly—but for very different reasons.
The murder of someone close to Logan soon exposes deep layers of resentment, greed, and painful, personal loss. Only love, trust, and community will have any chance of stopping the killer, before more lives, including Logan's own, are lost.
Reviews for DEVIL'S CLAW

"I'm falling for Logan! Davisson has done a great job in creating a character you get to know and get into her head. I can visualize where she lives and it almost seems like watching a TV special when you read it. You will definitely enjoy getting to know her. I mean the book!"
–Joe D
"Fast paced and compelling, Devil's Claw will make you wish you lived in Jasper, CA just so you could get involved in all the action! Buy it, read it, love it!"
–J Livingston
"Davisson has succeeded in wonderfully entrapping me in another segment of Logan McKenna's life at the perfect pace for me. I'm delighted to learn more about the characters in Logan's life, saddened at the sudden loss of a dear one, loving Sadie, and thoroughly enjoying the complexities leading to what I consider a perfect outcome."
–A Henri
"So glad for Book 3 Loved it! Fast-paced and engaging, I sure hope there's another one coming soon! I always feel empty when I finish a good book, feels like I just lost my friends. Will definitely recommend to other book lovers."
–Ms. M