Find out about giveaways, be among the first to read new books ...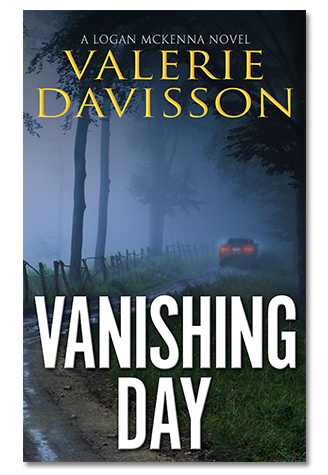 VANISHING DAY: Logan Book 4
Available at: Amazon
Viciously attacked by an unknown assailant, Logan's new neighbor, a young mother, clings to life in the ICU, her three-year-old daughter the only witness to the attack. 
Logan soon discovers her friend isn't who she said she was. Without any ID, the police investigation stalls. Logan holds the only clue, but has no idea what it means or how dangerous it is. 
That's never stopped her before, but this time her drive to uncover the truth draws the killer towards her. Before she realizes the danger, Logan's in so deep, she may never be able to claw her way out.
Reviews for VANISHING DAY

"Fast paced and edgy, this one has it all—suspense, drama, and mystery. Who is Logan's new neighbor and why was she attacked? Keeps you on the edge of your seat!"
–Mommagabs
"Feels like you're right there! Can't wait for the next one!"
–Carmel S
"Another great Logan story with lots of suspense. I really liked the bad guy in this one!"
–Julie D
"I want Logan for my neighbor! I have read the series and have seen her grow into a formidable character. Feel like I know her through the eyes of the author. Davisson writes like we want people to think and keeps us in the storyline 'til the end. Thanks for another great ride…and read!"
–Margo, Los Angeles